SMILE SIMULATION AVAILABLE
With Invisalign treatment, we can simulate the outcome of your personal transformation right before your eyes.
SAME-DAY EMERGENCIES
If you or a family member experiences a dental emergency, we urge you to contact our emergency dentist in Kitchener as soon as possible for treatment.
IMPLANTS IN-OFFICE
Looking to restore your smile? Our office provides dental implant placement in-office for patients with missing teeth.
FAMILY-FOCUSED PRACTICE
Our affordable dentist near you strives to provide you and your family with a comfortable and relaxing environment. Your family is our family!
Request an Appointment With Our Kitchener Dentist Near You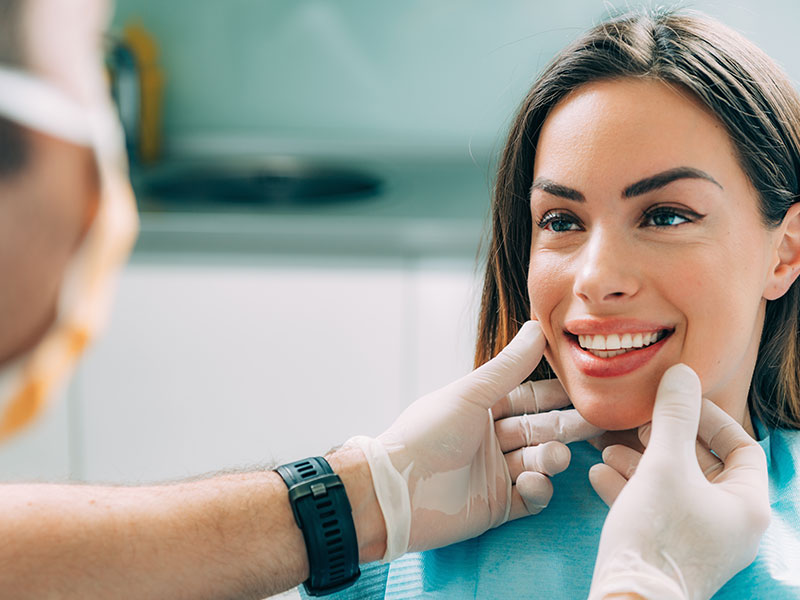 Laurentian Dental CentreDentist in Kitchener, ON
Welcome to Laurentian Dental Centre, where you'll find everything you need to enhance, repair, and protect your beautiful smile for years! Alongside our hygienists and administrative personnel, our Kitchener dentists are passionate about helping patients regain their self-confidence and control of their oral health. We'll be alongside you every step of the way to make sure you remain informed and comfortable with your treatment.
At our dental office in Kitchener, we offer a variety of services, all of which are tailored to meet your individual needs. This includes, but is not limited to, x-rays, dental cleanings, teeth whitening, root canals, and dental implants. For more information about our treatments, reach out to us today!
Your smile is the first thing people see and the last thing they remember — get the smile you deserve by booking a consultation with a member of our staff. We are very excited to see you soon!
Services at Our Dental Clinic Near You
Cosmetic Dentistry
Cosmetic dental care is focused on improving the look of a patient's teeth while simultaneously maintaining good oral health based on that patient's specific needs. At Laurentian Dental Centre, our Kitchener dentists provide a wide range of cosmetic dental treatments for patients seeking aesthetic improvements for their smiles.
Our dentist near you believe everyone deserves to feel a sense of pride when smiling, laughing, and talking to the people in their lives. The way your smile looks has a huge impact on your self-confidence. Our dentist in Kitchener provides teeth whitening, dental crown and bridges, and porcelain veneers for patients seeking these types of cosmetic dental treatments.
To find out if you are a candidate to enhance your smile cosmetically, contact Laurentian Dental Centre at (519) 742-2084 today. Our Kitchener dentist team serves all patients throughout the Kitchener area.
Preventative Dentistry
Preventative dental care focuses specifically on maintaining and promoting good oral health and hygiene over the course of a patient's life. Your oral health can directly impact your overall health and if you follow the recommendation of regular dental visits (every 6 months) you are able to protect and preserve your smile for a lifetime. Our dental clinic in Kitchener encourages patients to not only receive dental cleanings and check-ups to keep their oral health optimal but to also practice good oral hygiene habits at home.
Brushing your teeth twice a day and flossing once per day helps keep your mouth healthy between visits. If you have any questions about other ways you can maintain your oral health and new habits you can develop, contact our Kitchener dental office today.
Dental Implants
Do you have one or more missing teeth? Implant dentistry is a restorative dental procedure that is utilized to replace single or multiple missing teeth by surgically implanting a replacement tooth root.
This type of tooth restoration is the permanent solution for tooth loss for patients who are candidates. The implant, made of titanium, is placed in the jawbone beneath your gums and fuses with the bone. This helps to form a secure and durable bond with the area. A dental crown will serve as your replacement tooth or teeth once the implant has healed.
If you are curious about whether or not you are a candidate for this treatment, contact our walk in dental clinic today to schedule a complimentary consultation. Our dentist in Kitchener can't wait to meet you!